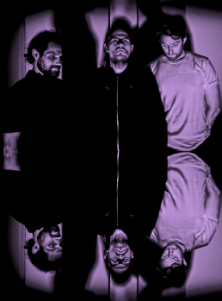 Trottoir – Mannheimer Hartkraut
Trottoir – Mannheimer Hartkraut
A plumber, a jazzer and a tiler are building a house. The foundations are made of ferroconcrete and thick walls of lunar rock, which are traversed with interior walls of lined layers of ebony. On the floor, tiled oranaments are alternating between creaking planks and fluffy Oriental carpets while the 70ies wallpapers are paved with golden frames, which contain hunting scenes and art noveau settings. Three musicians with a drumset, a guitar and a bass are standing in self-forgotten manner in front of the house. On a Trottoir. And they're playing the self-invented Mannheimer Hartkraut, a mixture of Krautrock, Post Rock, Space Rock and their own artistic origin.
The musical result of the three musicians has the name erste (f/m/n), contains 5 instrumental tracks and is going to be released on the 31th January of 2015 in physical form on CD (self-distribution) and on a luxury and limited hand-numbered 180-Gram Gatefold Vinyl-Edition in three different colours (available through adansoniarecords). The album was recorded in April 2014 in Mannheim at the RAMA-Tonstudio by Jens Siefert (Bülent Ceylan, AHAB, Whalerider, The Tidal Sleep), the artwork was created and designed by the Mannheim based artist Prints Of Persia (Long Distance Calling, Black Shape Of Nexus, WALL). Simultaneously, the band played an exclusive and sold out show at the Forum in Mannheim and is currently playing concerts and festivals in Germany.
Hartkraut-Player – erste (f/m/n)
Melting Butter Session
Trottoir are
Martin Feige

Guitar

Daniel Schwarz

Drums

Gabor Schary

Bass
Store
Merchandise and the digital album erste (f/m/n) are available on Bandcamp.
Vinyl
The vinyl of erste (f/m/n) is available on the website of our label Adansoniarecords.
Facebook
Imprint
Martin Feige
Pozzistraße 1
68167 Mannheim
info@trottoirband.de
Upcoming shows
13.11.2015 G-Werk, Marburg
04.12.2015 Generator Festival, AKK, Karlsruhe
Gigography
30.10.2015 Karlstorbahnhof, Heidelberg (Enjoy Jazz Show)
21.08.2015 PsyKa Festival, Karlsruhe
27.06.2015 BLA, Bonn
31.01.2015 Jugendkulturzentrum Forum, Mannheim (Record Release Show with Sophie's Earthquake and Electric Orange)
11.12.2014 PSI Rock Festival III, Mannheim
20.06.2014 Summercamp Open Air, Maarbachstausee
13.01.2014 PSI Rock I Festival, Mannheim
14.12.2013 Cinema Quadrat Mannheim / with Nadja
13.10.2013 This Charming Man Festival, Mannheim
31.08.2013 Brückenaward Mannheim
25.06.2013 Koppelfeier Open Air, Birkenau
31.05.2013 Maifeld Derby Festival, Mannheim
26.04.2013 Pipe of Peace Festival, Mannheim
21.03.2013 Into The Void, Ludwigshafen
16.11.2012 Einraumhaus, Mannheim
19.10.2012 Nachtwandel, Mannheim